VIRTUAL PRODUCTION
The cutting-edge filmmaking process that's sweeping the commercial and TV production world—and the new tools that are making it easier than ever.

HERE'S THE THING,
WE USED TO SHOOT EVERYTHING IN THE STUDIO, LIKE THIS:
It wasn't terribly flexible to stay in the studio 100% of the time, but it was predictable and efficient.
BUT AUDIENCES WANTED HIGHER QUALITY STORIES. STORIES THAT TOOK THEM TO MORE PLACES.
To make movie-quality TV and commercials, we started shooting more and more on-location—or building incredibly expensive sets that gave us more variety of scenes and situations.
AND THE GOOD NEWS:
TECHNOLOGY IS NOW ALLOWING US TO BRING HIGH QUALITY LOCATIONS TO US—BACK TO OUR STUDIOS.

Welcome to virtual production.
Keep scrolling to learn how SHOWRUNNER is making virtual production accessible for filmmakers without technical backgrounds.
Virtual production can be highly technical, which is why
SHOWRUNNER MAKES IT EASIER FOR FILMMAKERS TO MANAGE VIRTUAL PRODUCTION.
EASILY MANAGE YOUR LED VOLUME

Virtual backgrounds have to look right, or else your scenes look fake. SHOWRUNNER's software helps automate the process of making the virtual look real to the human eye.

TAKE CONTROL OF THE VIRTUAL WORLD

3D environments and virtual objects, lighting, and more require technical crew to manipulate. SHOWRUNNER Makes it easier for traditional film crews and directors to work with their virtual technicians—and easily manage some virtual tools themselves.

SPEED UP YOUR SHOOT DAYS

SHOWRUNNER helps you speed up the pre-lighting process, and speed the transition from planning to production, while making everything look more realistic.

TECHNICAL SUPPORT WHEN YOU NEED IT

SHOWRUNNER gives film crews peace of mind when running virtual productions; our experts are here for your support whenever you need it.
SHOWRUNNER LOWERS THE TECHNICAL BARRIER TO VIRTUAL PRODUCTION—SO YOU CAN MANAGE YOUR VIRTUAL SET LIKE YOU MANAGE A TRADITIONAL SET.
Like Squarespace did for building websites, SHOWRUNNER makes it possible for the average creative person to manage a virtual production shoot.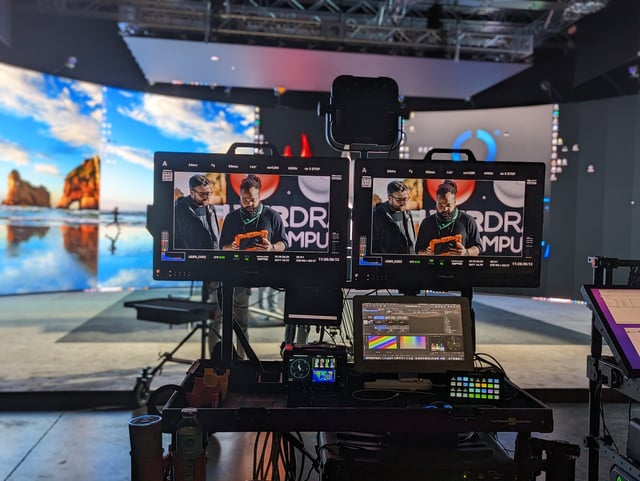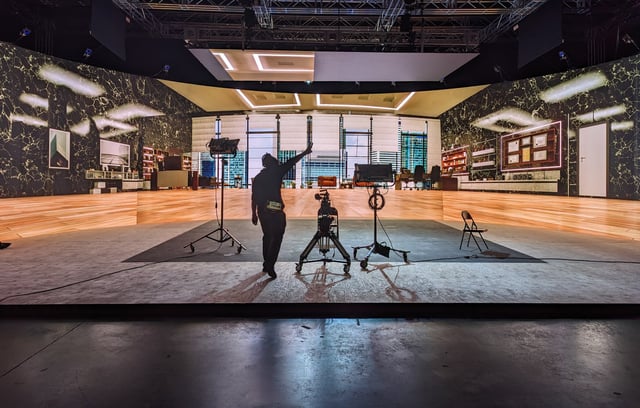 BUILD OUT YOUR VIRTUAL PRODUCTION STUDIO
Through special partnerships with hardware providers, we'll get you deals on the right equipment for your needs, and set you up—from scratch, or with any pieces you're missing.

But the magic really starts when we
CONNECT YOUR LED VOLUME & FILM DEVICES TO SHOWRUNNER
We'll pair your camera(s), lights, and virtual production hardware to SHOWRUNNER's operating system, and set you up to manage your operation from a tablet or laptop.
Then use SHOWRUNNER to
EXECUTE VIRTUAL PRODUCTION TASKS WITH A SWIPE
We'll configure your studio so you can easily:
Manage your virtual sets
Speed up your shoot days
Make the Unreal look real
Get peace of mind, with
FULL TECHNICAL SUPPORT
SHOWRUNNER tech support is on standby. Remote virtual production supervisors can join your set from anywhere in the world and run any device—including Unreal Engine.
VIRTUAL PRODUCTION TOOLS ARE CURRENTLY INVITE-ONLY
If you'd like to talk about getting early access to SHOWRUNNER's virtual production suite:
INTERESTED IN RENTING A VIRTUAL PRODUCTION STUDIO?
We've got you—via our partner network of SHOWRUNNER-capable soundstages around North America:
SHOWRUNNER Partners With Top Studios & Advisors From