VIRTUAL PRODUCTION
The cutting-edge filmmaking process that's sweeping the commercial and TV production world—and the new tools that are making it easier than ever.

HERE'S THE THING,
WE USED TO SHOOT EVERYTHING IN THE STUDIO, LIKE THIS:
It wasn't terribly flexible to stay in the studio 100% of the time, but it was predictable and efficient.
BUT AUDIENCES WANTED HIGHER QUALITY STORIES. STORIES THAT TOOK THEM TO MORE PLACES.
To make movie-quality TV and commercials, we started shooting more and more on-location—or building incredibly expensive sets that gave us more variety of scenes and situations.
AND THE GOOD NEWS:
TECHNOLOGY IS NOW ALLOWING US TO BRING HIGH QUALITY LOCATIONS TO US—BACK TO OUR STUDIOS.

THIS IS VIRTUAL PRODUCTION.
And SHOWRUNNER is making it easy and accessible for filmmakers.
SHOWRUNNER MAKES VIRTUAL PRODUCTION INTUITIVE.
SO DPS, GAFFERS, AND PRODUCTION DESIGN CAN DO WHAT THEY DO BEST—FROM A SIMPLE TOUCHSCREEN INTERFACE.
CONTROL THE VIRTUAL WORLD LIKE MAGIC.
KEEP YOUR CREW IN ONE SPOT. BRING VIRTUAL LOCATIONS TO LIFE. AND SHOOT WITH CONFIDENCE.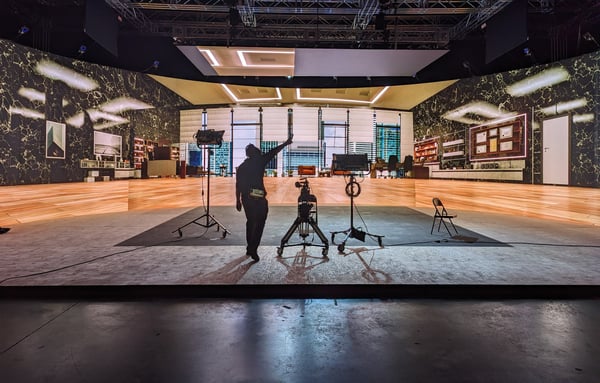 OUR VIRTUAL PRODUCTION TOOLS ARE CURRENTLY INVITE-ONLY
If you'd like to talk about getting early access to SHOWRUNNER's virtual production suite:
INTERESTED IN RENTING A VIRTUAL PRODUCTION STUDIO?
We've got you—via our partner network of SHOWRUNNER-capable soundstages around North America:
SHOWRUNNER Partners With Top Studios & Advisors From