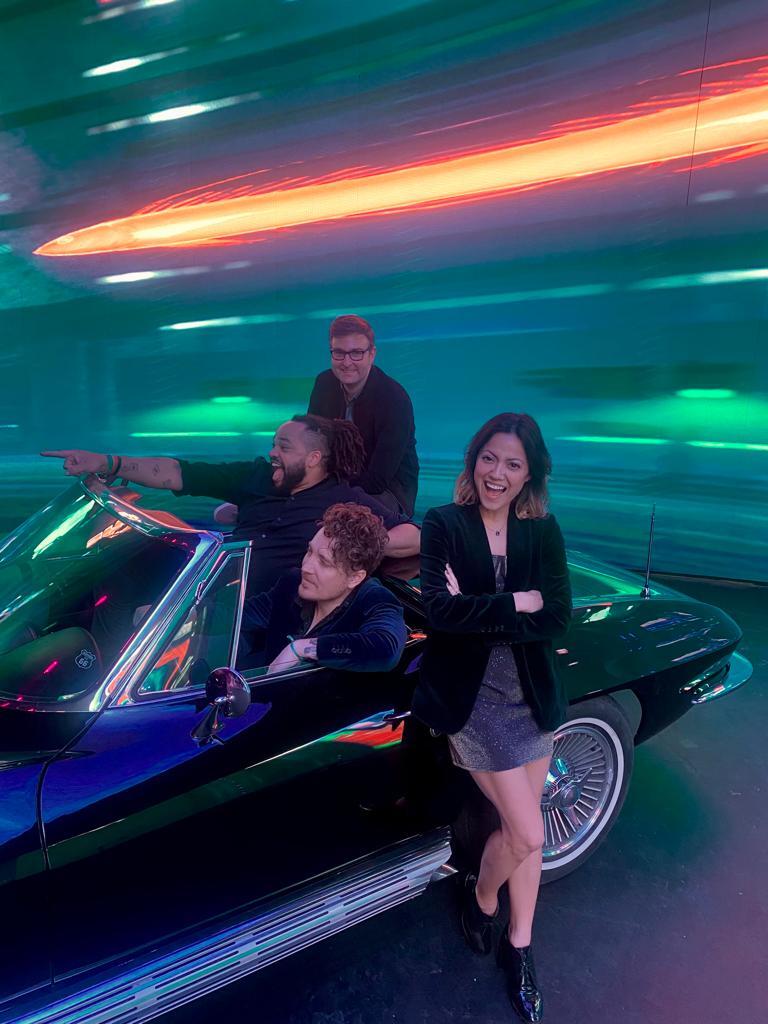 Work at
SHOWRUNNER
We're hiring! See our openings below.
But first, here's a little about how we work…

We're doing things differently in the film and tech industries.
So we like working with people who think differently.
How We Roll
We love when people can be who they are, and work how they need to.
We believe that the best teams are made of people who bring different ingredients to the table, and who have the intellectual humility to take other viewpoints seriously.
That means that we want you because you think differently than the rest of us think. So when we're working together, we're accommodating that—nay, we're encouraging it!
(BTW who actually says "nay" these days? Apparently we do??...)
Point is—thinking different means you might work different. That's fine. We don't care if you manage your day with Trello or Sticky Notes or by scribbling pen on your arm.
The only thing we'll ask you is that you try to do what's best for the people you work with.
No dumb rules. We just want to do great work and be excellent to each other.
We don't limit vacation days. All we ask is you make sure your team is taken care of while you're gone; get your stuff in order, then go take time for yourself.
And the good news: we're asking your team to do the same for you. Need to pick up your kid from school every day at 3? We're going to stop scheduling meetings with you at 3.
(Also btw, we don't believe in pointless meetings. We respect each other's time.)
So that's what you'll notice about working here. We care about each other, and we care about doing awesome work. We don't care if you need to go off video for this Zoom call. We don't care if you have a nose ring.
We do care that you speak up when you disagree or don't understand. We speak up when that's the case for us. We talk things out, we treat each other charitably, and we lean into tough problems and hard conversations because we want to bring out the best in us.
What We Have To Offer:
You'll get to be part of a ragtag team that's changing the filmmaking industry. We're combining technology, lateral thinking, brilliant people, and metric gallons of La Croix* to create the operating system that will power the future of TV and film production!
Good pay
Stock options
Health insurance
Work from anywhere (but come to our R&D lab sometimes plz)
Pets and kids welcome in meetings
Paid time off (we require you to take

at least

3 weeks off a year)
We encourage your side projects!
*We know gallons aren't a metric unit. It just had a nice sound to it.
We're Serious About Great Culture
Here's what folks who worked for us at our last startup have to say:
"When I took over as CEO of [Shane's last company], a big thing that drew me to the company was the wonderful culture they'd built. It's a bright spot in the tech industry where more than half of the team and most of the leadership are women. It's a haven for LGBT and POC professionals. From the beginning, the founders created a place where anyone can belong and be seen."
"Working at [CEO Shane Snow's last company] completely changed the trajectory of my career. Throughout my time there, the team gave me the confidence and support I needed to tackle ambitious projects, develop industry expertise, and grow my leadership ability."
"Working with (CEO) Shane, I felt empowered to take ownership in not just driving the success of the company, but being a leader within its culture as well!"
"Shane is a truly inclusive leader who sees the value and the joy of working with a diverse group of people to tackle meaningful problems.
When working with him, he's always made a huge effort to not just understand what I'm saying, but the why of it."
Current Openings:
We're currently looking for: Senior Full Stack Engineer, Unreal Engine Engineer, UI Designer, Forward Deployed Engineer, and Sales & Customer Success folks. We're also always opportunistically looking for amazing people to join in other capacities. So feel free to...
Inquire About A Role At SHOWRUNNER Here!