A new app is working to solve the entertainment industry's hiring problem
Long-time TV executive H Schuster is no stranger to Hollywood's hiring challenges. With over two decades of experience as a successful producer, executive, and entrepreneur in the entertainment industry, she is an expert in staffing and sourcing talent.
During her years behind the scenes of shows like The Office to Master Chef, Schuster noticed a pattern: hiring for production roles typically relied on nepotism or close connections. The industry had a classic "it's who you know" mentality.
"When you're looking to fill a role," she said, "you make five or ten phone calls, maybe to an agent or a manager, usually a colleague or a friend… You're never really getting out of that small clique of people or one degree removed from them that you called in the first place. It makes it really hard to find diverse talent."
So Schuster decided to do something about it. Enter HUSSLUP.
From Clique to Click
HUSSLUP (pronounced like "hustle up") is a new networking app designed to democratize hiring in the entertainment industry. Rather than relying on someone who knows someone who knows someone, the app serves as a network where TV and film industry professionals can create a profile, get hired, or search for talent to hire. Applicants are vetted and have the ability to update their credits and information.
"What we're providing at HUSSLUP is a place for creative talent to put all of their professional information in one place, own their message, and present themselves the way they want to be seen," Shuster said.

On IMDB and other talent profile platforms, users can submit edits to their own information like work credits or personal changes like name or gender, but the site owns their info and must ultimately approve edits. On HUSSLUP, users can adjust everything from credits and bios to creative samples and recommendations from people they've worked with.
The app is currently in an invite-only beta testing stage, which began in February. The team has partnered with almost 20 production companies and studios—including Universal Studio Group, Blumhouse, and Westbrook—to test the app's efficacy. The conversion rate for invitations is 32% with over 4,000 professional creatives currently on board. So far, so good.
Diversifying Hiring
Diversity is key to HUSSLUP's mission. Since so much industry hiring happens via legacy connections, underrepresented groups have historically been looked over by executives.
"I think every industry is trying to find their solution to this," Schuster mused. "But the entertainment industry in particular, post #OscarsSoWhite, and #MeToo, is having a bit of a watershed moment. A lot of people are trying to figure out how to improve inclusivity and diversity on creative teams in front of and behind the camera."
Of HUSSLUP's current members, 65% are diverse in some way, be it race, ethnicity, gender, sexuality, or age. Producers and executives can search for qualified professionals to fill needed roles in one comprehensive place. Member profiles include their work credits, connections, and current or upcoming projects so decision-makers can see an accurate representation of someone's skills, background, and availability.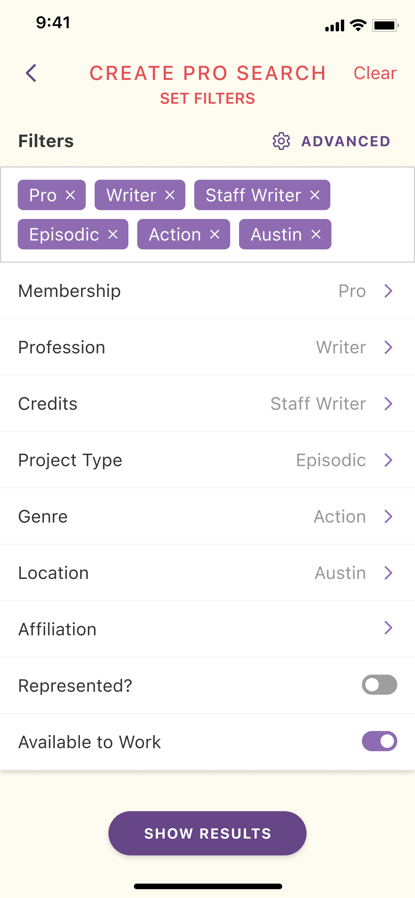 "We had one of our first hires at AGBO, the Russo Brothers company," Schuster said. "They hired a young Latina woman as a permanent production assistant, which was game-changing for her."
Industry newcomers on HUSSLUP can spend less time, well, hustling to get a foot in the door, and more time actually working on their craft. Thanks to their profile and references on the app, they're already in.
Greater Overall Visibility
Another major focus for the HUSSLUP team: helping industry newcomers. The app could be a place to showcase talent in a new light to potential collaborators and employers.
For example, Schuster recently partnered with Roadmap Writers for a pitch competition. Sarah Mack and Josh Price won and were able to pitch their finished script, "Shrink Retreat," to pitch Alon Shtruzman, the CEO of Keshet International, for an option on their project. "Shrink Retreat" is about "a burned-out young therapist who tries to rekindle her passion for helping others at a secret retreat for psychologists, [which] turns out to be a wacky summer camp."
As far as vetting applicants, HUSSLUP's beta model is set up so industry professionals of all levels have a chance to join. "That'll eventually be an automated vetting process when you sign up," Schuster explained.
In the next six months, HUSSLUP plans to open a "Rising Tier" that folks who are looking to break into the industry can join. Creatives with experience and work credits will be offered the "Pro Tier," but all HUSSLUP users will be able to network with one another.
Shifting the Culture
Along with tackling Hollywood's diversity problem, Schuster is passionate about making sure HUSSLUP is an encouraging, non-toxic community where members feel empowered to share their wins and support one another.
"I think a lot of people have been hacking Facebook communities," she said. "It's not the greatest experience because you're still trafficking on a personal profile. And there is a lot of clutter and some toxicity. So what we really wanted to create was a bespoke platform for this industry where people can really have the right sets of tools to present themselves and connect with each other… Positive culture is key."
As more talent is found through social media channels like TikTok, online hiring platforms will likely become the new normal in the entertainment industry. And HUSSLUP is helping lead the charge.