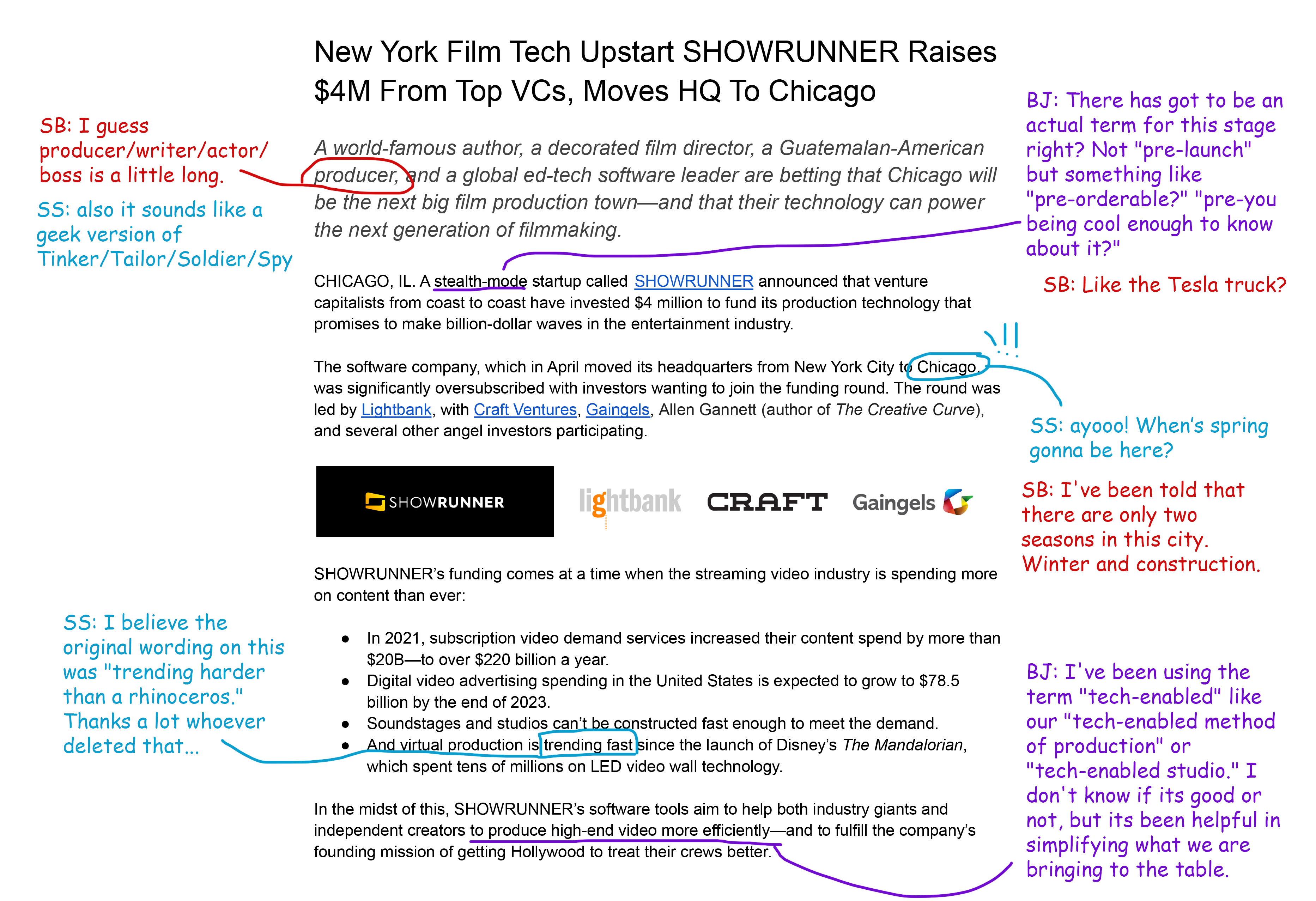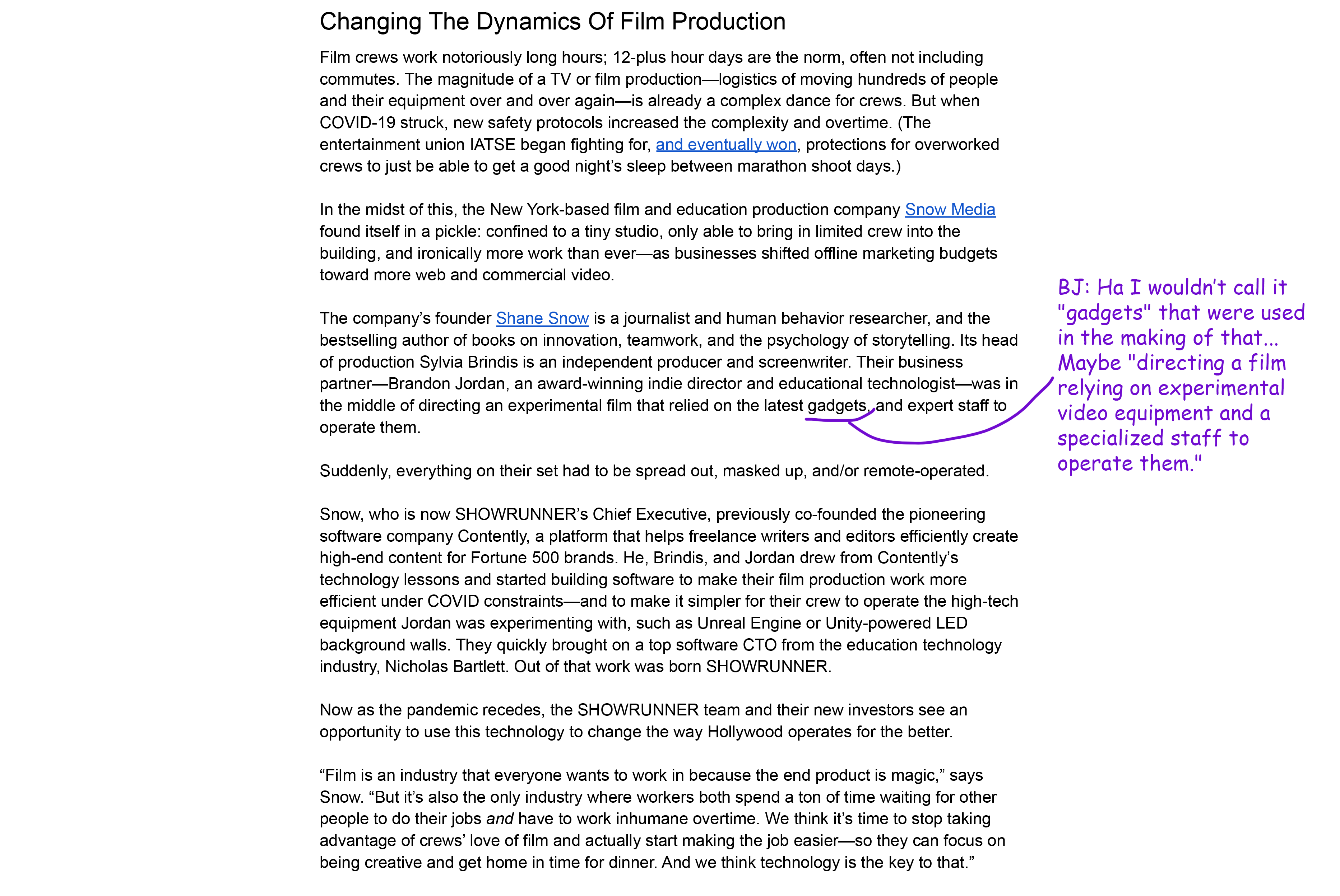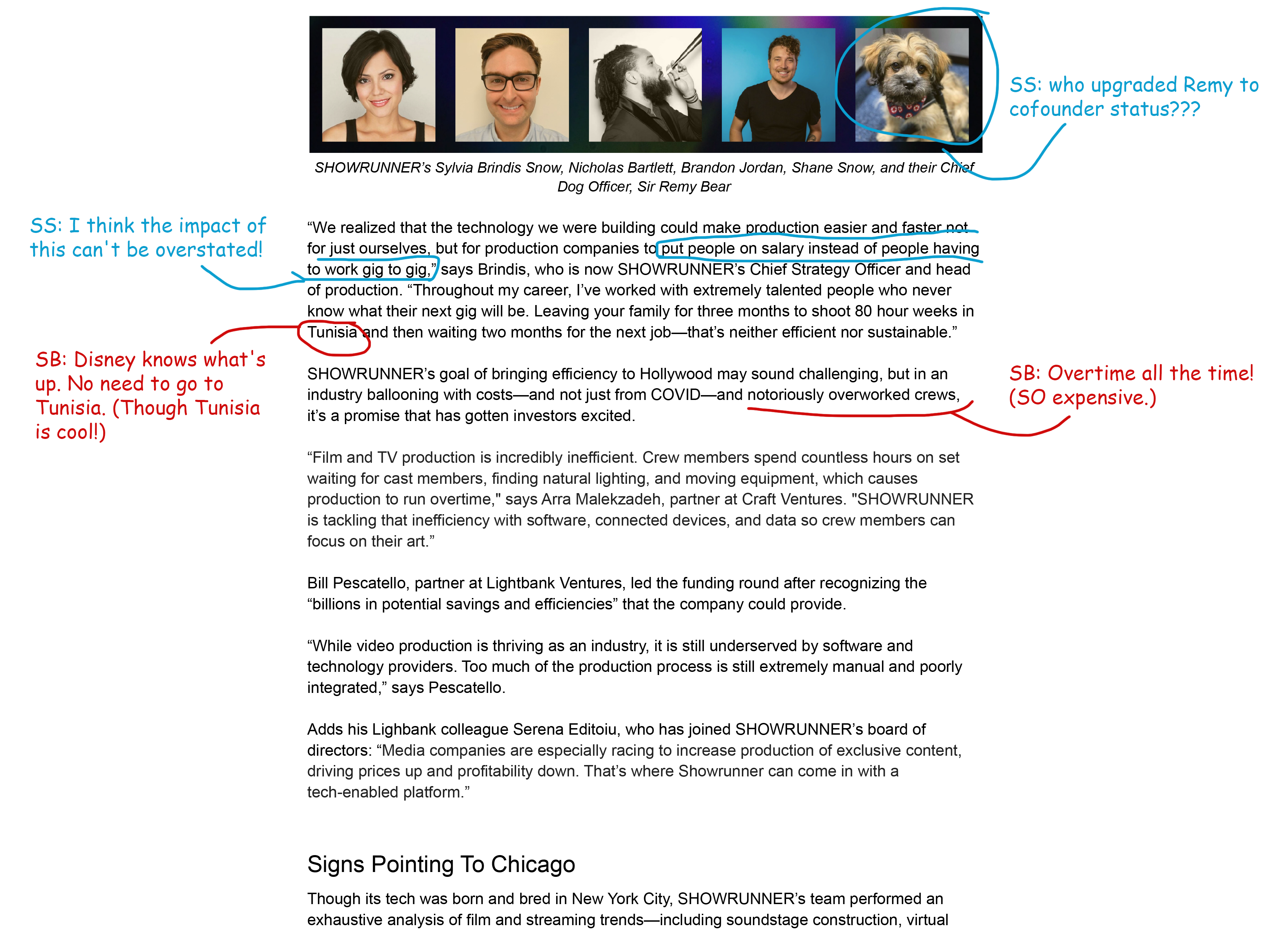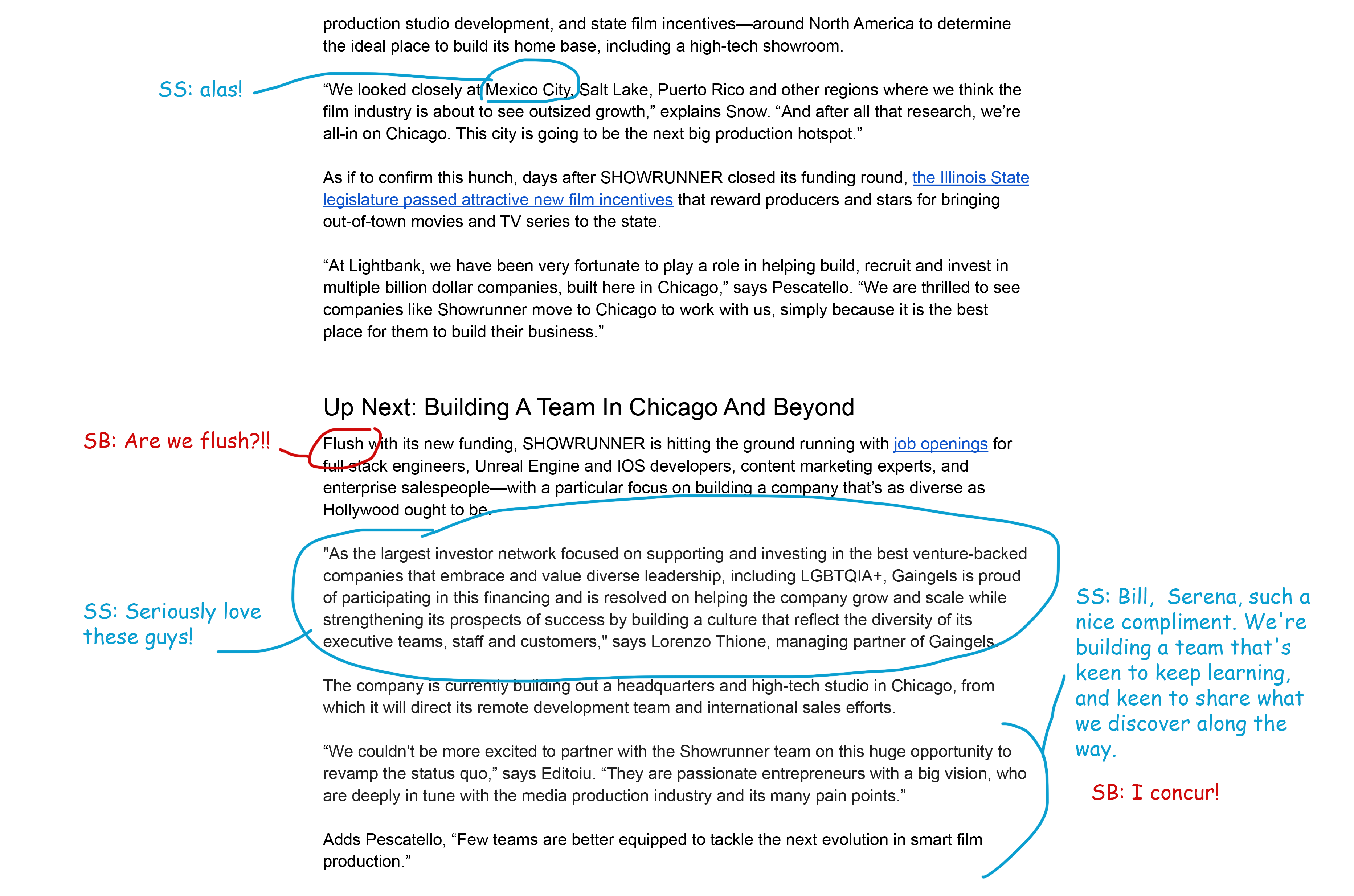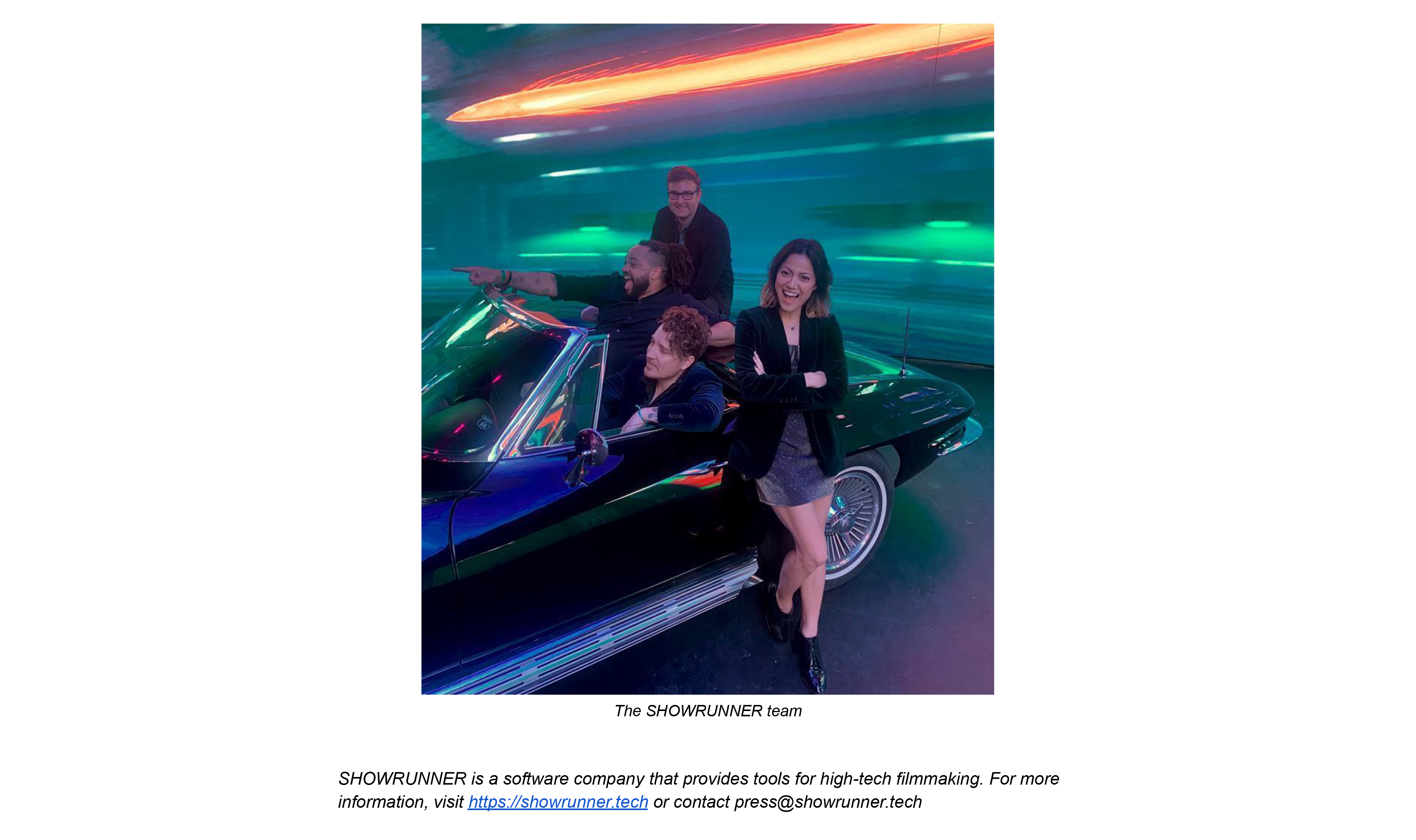 ---
PLAIN TEXT VERSION
Film Tech Upstart SHOWRUNNER Raises $4M From Top VCs, Moves HQ To Chicago
A world-famous author, a decorated film director, a Guatemalan-American producer, and a global ed-tech software leader are betting that Chicago will be the next big film production town—and that their technology can power the next generation of filmmaking.
CHICAGO, IL. A stealth-mode startup called SHOWRUNNER announced that venture capitalists from coast to coast have invested $4 million to fund its production technology that promises to make billion-dollar waves in the entertainment industry.
The software company, which in April moved its headquarters from New York City to Chicago, was significantly oversubscribed with investors wanting to join the funding round. The round was led by Lightbank, with Craft Ventures, Gaingels, Allen Gannett (author of The Creative Curve), Jeffrey Pew, and several other angel investors participating.
SHOWRUNNER's funding comes at a time when the streaming video industry is spending more on content than ever:
In 2021, subscription video demand services increased their content spend by more than $20B—to over $220 billion a year.

Digital video advertising spending in the United States is expected to grow to $78.5 billion by the end of 2023.

Soundstages and studios can't be constructed fast enough to meet the demand.

And virtual production is trending fast since the launch of Disney's The Mandalorian, which spent tens of millions on LED video wall technology.
In the midst of this, SHOWRUNNER's software tools aim to help both industry giants and independent creators to produce high-end video more efficiently—and to fulfill the company's founding mission of getting Hollywood to treat their crews better.
Changing The Dynamics Of Film Production
Film crews work notoriously long hours; 12-plus hour days are the norm, often not including commutes. The magnitude of a TV or film production—logistics of moving hundreds of people and their equipment over and over again—is already a complex dance for crews. But when COVID-19 struck, new safety protocols increased the complexity and overtime. (The entertainment union IATSE began fighting for, and eventually won, protections for overworked crews to just be able to get a good night's sleep between marathon shoot days.)
In the midst of this, the New York-based film and education production company Snow Media found itself in a pickle: confined to a tiny studio, only able to bring in limited crew into the building, and ironically more work than ever—as businesses shifted offline marketing budgets toward more web and commercial video.
The company's founder Shane Snow is a journalist and human behavior researcher, and the bestselling author of books on innovation, teamwork, and the psychology of storytelling. Its head of production Sylvia Brindis is an independent producer and screenwriter. Their business partner—Brandon Jordan, an award-winning indie director and educational technologist—was in the middle of directing an experimental film that relied on the latest gadgets, and expert staff to operate them.
Suddenly, everything on their set had to be spread out, masked up, and/or remote-operated.
Snow, who is now SHOWRUNNER's Chief Executive, previously co-founded the pioneering software company Contently, a platform that helps freelance writers and editors efficiently create high-end content for Fortune 500 brands. He, Brindis, and Jordan drew from Contently's technology lessons and started building software to make their film production work more efficient under COVID constraints—and to make it simpler for their crew to operate the high-tech equipment Jordan was experimenting with, such as Unreal Engine or Unity-powered LED background walls. They quickly brought on a top software CTO from the education technology industry, Nicholas Bartlett. Out of that work was born SHOWRUNNER.
Now as the pandemic recedes, the SHOWRUNNER team and their new investors see an opportunity to use this technology to change the way Hollywood operates for the better.
"Film is an industry that everyone wants to work in because the end product is magic," says Snow. "But it's also the only industry where workers both spend a ton of time waiting for other people to do their jobs and have to work inhumane overtime. We think it's time to stop taking advantage of crews' love of film and actually start making the job easier—so they can focus on being creative and get home in time for dinner. And we think technology is the key to that."
"We realized that the technology we were building could make production easier and faster not for just ourselves, but for production companies to put people on salary instead of people having to work gig to gig," says Brindis, who is now SHOWRUNNER's Chief Strategy Officer and head of production. "Throughout my career, I've worked with extremely talented people who never know what their next gig will be. Leaving your family for three months to shoot 80 hour weeks in Tunisia and then waiting two months for the next job—that's neither efficient nor sustainable."
SHOWRUNNER's goal of bringing efficiency to Hollywood may sound challenging, but in an industry ballooning with costs—and not just from COVID—and notoriously overworked crews, it's a promise that has gotten investors excited.
"Film and TV production is incredibly inefficient. Crew members spend countless hours on set waiting for cast members, finding natural lighting, and moving equipment, which causes production to run overtime," says Arra Malekzadeh, partner at Craft Ventures. "SHOWRUNNER is tackling that inefficiency with software, connected devices, and data so crew members can focus on their art."
Bill Pescatello, partner at Lightbank Ventures, led the funding round after recognizing the "billions in potential savings and efficiencies" that the company could provide.
"While video production is thriving as an industry, it is still underserved by software and technology providers. Too much of the production process is still extremely manual and poorly integrated," says Pescatello.
Adds his Lightbank colleague Serena Editoiu, who has joined SHOWRUNNER's board of directors: "Media companies are especially racing to increase production of exclusive content, driving prices up and profitability down. That's where Showrunner can come in with a tech-enabled platform."
Signs Pointing To Chicago
Though its tech was born and bred in New York City, SHOWRUNNER's team performed an exhaustive analysis of film and streaming trends—including soundstage construction, virtual production studio development, and state film incentives—around North America to determine the ideal place to build its home base, including a high-tech showroom.
"We looked closely at Mexico City, Salt Lake, Puerto Rico and other regions where we think the film industry is about to see outsized growth," explains Snow. "And after all that research, we're all-in on Chicago. This city is going to be the next big production hotspot."
As if to confirm this hunch, days after SHOWRUNNER closed its funding round, the Illinois State legislature passed attractive new film incentives that reward producers and stars for bringing out-of-town movies and TV series to the state.
"At Lightbank, we have been very fortunate to play a role in helping build, recruit and invest in multiple billion dollar companies, built here in Chicago," says Pescatello. "We are thrilled to see companies like Showrunner move to Chicago to work with us, simply because it is the best place for them to build their business."
Up Next: Building A Team In Chicago And Beyond
Flush with its new funding, SHOWRUNNER is hitting the ground running with job openings for full stack engineers, Unreal Engine and IOS developers, content marketing experts, and enterprise salespeople—with a particular focus on building a company that's as diverse as Hollywood ought to be.
"As the largest investor network focused on supporting and investing in the best venture-backed companies that embrace and value diverse leadership, including LGBTQIA+, Gaingels is proud of participating in this financing and is resolved on helping the company grow and scale while strengthening its prospects of success by building a culture that reflect the diversity of its executive teams, staff and customers," says Lorenzo Thione, managing partner of Gaingels.
The company is currently building out a headquarters and high-tech studio in Chicago, from which it will direct its remote development team and international sales efforts.
"We couldn't be more excited to partner with the Showrunner team on this huge opportunity to revamp the status quo," says Editoiu. "They are passionate entrepreneurs with a big vision, who are deeply in tune with the media production industry and its many pain points."
Adds Pescatello, "Few teams are better equipped to tackle the next evolution in smart film production."
—
SHOWRUNNER is a software company that provides tools for high-tech filmmaking. For more information, visit https://showrunner.tech or contact press@showrunner.tech